Last night I was happily knitting away on the back of the Seed Stitch Dress. I had just completed the armhole shaping and was feeling quite pleased with how quickly this project was coming along. I paused to hold it up and admire, when I got that sinking feeling. The one where a red flag goes up in your head and a tiny voice tells you something is not quite right. Now, I've ignored that tiny voice on more than one occasion. But every time, it's led to disaster. And given the fact that I had made a visit to the
Yarn Harlot's blog
yesterday morning, and saw an example of knitterly denial (Scroll down through the October 20th entry. You won't even need to read the text to know which one it is.) that was still fresh in my mind, I decided to face reality right then and there. No matter how unpleasant that reality is. Here, let me show you. Here is what I've knit so far: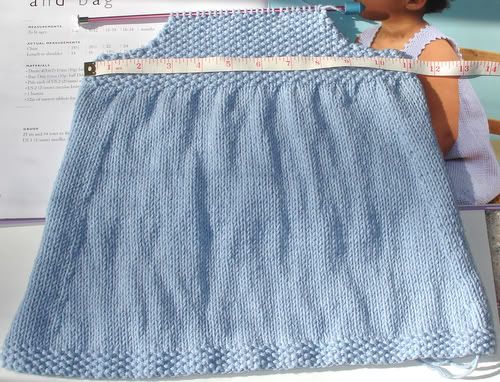 It is no coincidence that there is a measuring tape in that picture. Want to know what that tiny voice was saying to me? It went a little something like this -
(I hold the dress at arms length with a happy little feeling of accomplishment)
Tiny voice: "Wait a second........does this thing look a little wide? If I'm not mistaken, it looks to be about the same size as one of Sophie's shirts."
This is the point where I decide to use my impressive reasoning and problem solving ability, honed through many years of f**king up projects. See if you can follow along with my incredibly complex thought process:
The Facts

a) I am knitting the dress for a size 6-12 month baby.
b) This dress is just as wide in the chest as one of Sophie's shirts. (See exhibit 1)
exhibit 1: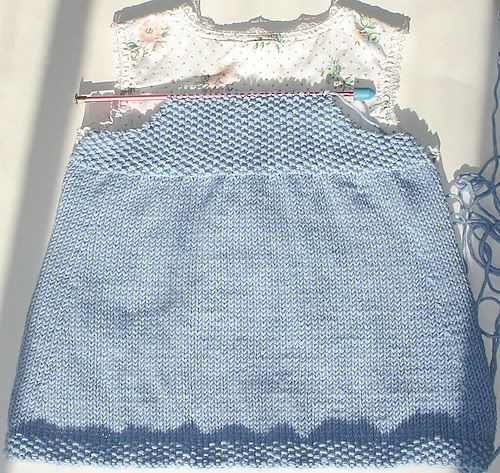 c) Sophie is 5 years old and wears a size 6 clothing.

The Conclusion
Bekki better have a seriously fat baby.
You may have noticed in the first picture that the back measures 11 inches wide. If I subtract the two stitches for seaming, that leaves me at 10 3/4 inches. Multiply that by two to get the total chest circumference, and we have 21 1/2 inches. That sounds pretty damn tiny to me.......... However, here's a close up of the first picture: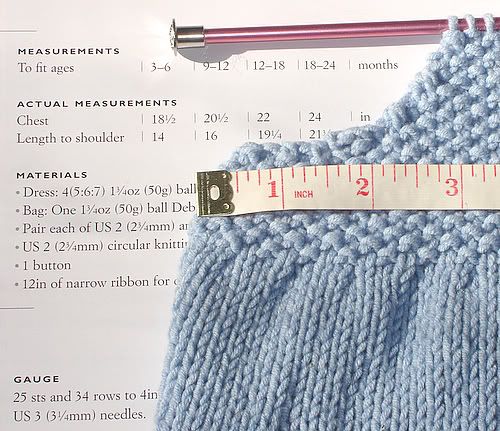 See where it lists the actual chest measurements for the different sizes? 21 1/2 inches puts me at just a tad smaller than the 12-18 month size. Some other important things to point out: There is no 6-12 month size - I altered the pattern to knit a 6-12 month size, as that is the size I made the bonnet and mary janes. Also, if you look at the bottom left corner, you'll see the gauge given for this dress when it's knit in Baby Cashmerino - 25 sts and 34 rows to 4 inches. I'm knitting it in All Seasons Cotton with a gauge of 20 1/4 sts and 28 rows to 4 inches. So I also altered the pattern to be knit with my gauge. And somewhere in all this fiddling with the pattern, something has gone horribly wrong. I am left with no choice but to rip it all back, figure out what the hell I did wrong, and start all over again.