I would ask for it. And I am. I'm stuck in a rut of indecisiveness about the
gift-for-friend-having-a-new-baby #1
. I can't decide between knitting a seed stitch dress, or knitting a sweater and sewing a dress to go with it. Here's the seed stitch dress:
It's from Debbie Bliss
Special Knits
. I would make it in the same yarn (Rowan All Seasons Cotton) that I made the bonnet and mary janes in. And though it's called a dress, as you can see in the picture, it actually fits the model more like a long shirt or tunic. I would lengthen it slightly so it did fit like a dress. Here are my pros and cons for this option:
It would knit up fast and easy, and I could be done with this project.
It's convenient that it's done in seed stitch, so the whole outfit will looked planned and well matched.
I just think it's a really cute dress. =)
Part of me feels like it will create a blue seed stitch over-kill. The outfit will look, well, just kinda "flat", in comparison to option two.
Here's the sweater (also from Special Knits) and fabric I would use to make the dress ( a simple A-line). It's 100% cotton with a floral print panel on the bottom. :


Pros:

I think the different texture and fabric of the dress will add visual interest to the outfit.
Having a dress and a sweater makes it more versatile to accommodate cool or warm weather.
I would get to knit something with beads, which I've never done before.
Cons:

Obviously making two more articles of clothing will take longer than making just one, and the lazy bastard part of me keeps reminding me of this point.
For some reason that I can't figure out, Debbie Bliss wrote the pattern for the sweater so that you knit it first and

then

painstakingly hand sew each bead on one-by-one. I flat out refuse to do that. So I would have to re-work the pattern so as to knit the beads in. I'm a little intimidated by that, because as I mentioned before, this would be my very first ever beaded knit project.
I would really like it if you would let me hear your opinion on this matter. Which do you like better? If it were being given to you, which option would please you more? Leave your vote in the comments. If I get at least eleven (I chose an odd number to avoid any ties) votes by next Thursday, I'll go with whatever the majority chose.
So this is what Sophia and I did after school yesterday: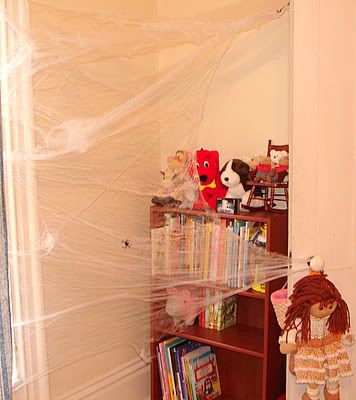 Soph wanted her room to look "Hallo-weeny" too, so we put a giant spider web across the corner with the bookshelf. Can you see the spider?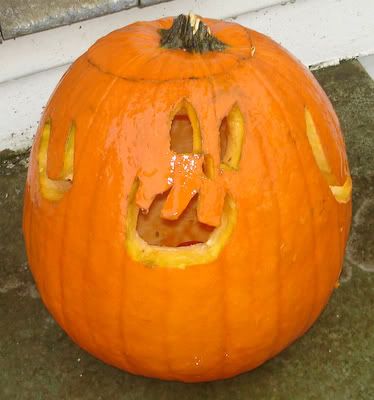 Sophie's jack-o-lantern. She drew the face, and I cut it out. The things you see on the sides are his ears. =)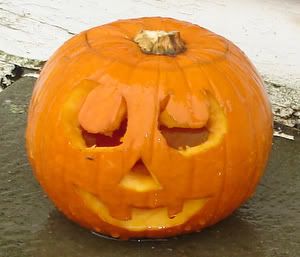 The pumpkin I made. It's teeny tiny compared to hers - about a tenth of the size.
She was so excited about all of the decorations, and had so much fun doing them. Having kids makes holidays so much more meaningful, and their excitement's contagious. =) I haven't enjoyed the holidays the way I do with Sophie, since
I
was a kid.